All prices include plates, napkins, utensils, condiments, salt & pepper.
All delivery orders require a $10 delivery fee.
Prices subject to change.
Kindly give 24 hours notice for your order.
Minimum 10 people.
BREAKFAST CATERING MENU
Biscuit Platters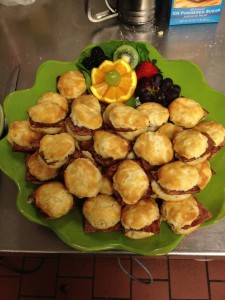 Meat Biscuits 33.99/dozen
meats: sausage, bacon, turkey sausage, ham, chicken, or turkey bacon
Meat, Egg & Cheese Biscuits 44.99/dozen
meats: sausage, bacon, chicken, turkey sausage, or turkey bacon with scrambled egg & cheddar cheese
Scrambled Egg Biscuits $29.99/dozen
Plain Biscuits – $17.99 ea/dozen
Mini Ham Biscuits – $16.99 dozen
We can mix and match biscuit platters upon request, and update prices accordingly.
Miscellaneous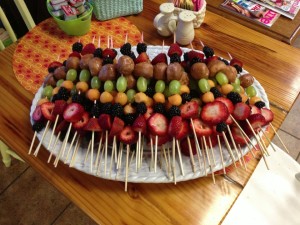 Sausage & Cheese Balls 5.99/dozen (1/2 dozen 3.49)
Fresh Fruit Bowl 2.19 per person
Fresh Fruit Skewers (6″)  1.39 each
Grits (9″ x 13″ p an) 16.99
add cheese $2.99
Pimento Cheese Grits (9″ x 13″) 19.99
Breakfast Casserole 29.99
sausage & cheese
French Toast Casserole (9″ x 13″) 18.99
Scrambled Eggs 24.99/pan (serves 12)

Breakfast Meat Trays 24.99/pan (serves 12)

bacon, sausage, ham, turket bacon, turkey sausage
Mini Pimento Cheese Scones 9.99/dozen

Fresh Muffins & Mini Scones 9.99/dozen

Beverages
One carafe Jittery Joe's House Blend Coffee $14.99
includes cream & sugar / one coffee carafe serves approx. 10
Orange Juice 6.99/gallon